This story appeared originally on The Gospel Coalition.
---
"This is truly a miracle," said the group of church leaders, pastors, and spouses in Ecuador. The opportunity to receive expository preaching training had helped them cross denominational lines.
As an international trainer for WordPartners (known as Leadership Resources International at the time of writing this article), I witnessed a gathering in May that fostered Christian unity among believers from churches in Portoviejo, Ecuador. A ministry that equips and encourages pastors around the world, WordPartners gathered 25 ministers for instruction on how to proclaim and apply the gospel with greater skill.
Although 94 percent of Ecuadorians claim Christianity, only 8 percent are evangelical. Portoviejo—less than 20 miles from Ecuador's Pacific coast—is no exception. Even with many churches in this tranquil city of about 225,000 people, the state of the pulpit is far from ideal.
The widespread lack of expository preaching has resulted in legalism, with certain doctrines being overemphasized at the expense of others. Moreover, pastors and churches have remained isolated from one another due to denominational and theological differences.
Vision for the City
The training event in May followed years of prayer from Alexander and Oscar Paul, two key church leaders in Portoviejo. These next-door neighbors and intimate friends serve as co-pastors in a church and colleagues at a local seminary.
Both have been trained in biblical exposition through WordPartners training program the past three years. WordPartners invests in a small group of national pastors through two-week training sessions held annually for four years. As pastors receive training, they then instruct other pastors.
Alexander and Oscar Paul have already trained pastors in various parts of Ecuador. Seeing firsthand the fruit of their training, they desired to lead interactive workshops in Portoviejo to equip local pastors and churches to faithfully preach God's Word with clarity and power. By offering training to many churches in their city, they sought to engender greater unity—for the wider spread of the gospel.
Major Stumbling Block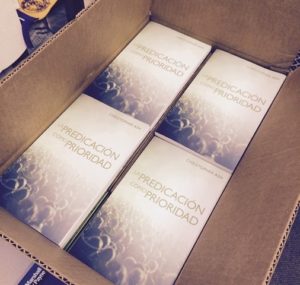 One obstacle stood in their way, however: local leaders had no incentive to attend. To an outside observer, WordPartners training appears to be just another Bible study. I've observed people often need to taste the riches of the Word opened up in this program before deciding to invest their time.
Six months ahead of the training, Patricio (WordPartners' director in Latin America), Alexander, Oscar Paul, and I brainstormed how to attract pastors to the event. One idea was to provide something not easily available in Portoviejo or much of Latin America: books soaked in Scripture and solid in theology.
We perused titles of books available through TGC International Outreach's Packing Hope before choosing Christopher Ash's The Priority of Preaching. The book argues for the authority and sufficiency of the preached Word and unpacks seven blessings of expository preaching. Since it offered a perfect supplement to the training, we hoped the book would draw the interest of pastors and lead them to attend.
From Skepticism to Excitement
Many church leaders approached the training apprehensively, unsure what to expect. One pastor's wife, who attended in her husband's absence, announced her skepticism: "I have no problem leaving early if this isn't worth my time." The trainers encouraged her and others to let God's Word speak to them during the gathering.
Over the next three days, attendees learned the basis of expository preaching and biblical theology as they studied the book of Ruth. The clear unfolding of Scripture proved an enlightening and enriching method that shaped convictions toward a more Christ-centered preaching model.
As the training drew to a close, that skeptical wife expressed eager excitement to share the training with her husband. For the sake of other pastors, participants requested another training session, which has been planned.
The group of believers from diverse denominations left with full hearts and minds, having gained practical tools to more faithfully proclaim God's Word. And in their hands they each carried one great book to further shape their ministry.
Join us in praying that the Word of God would spread widely and powerfully through more unified churches in Portoviejo and throughout Ecuador.