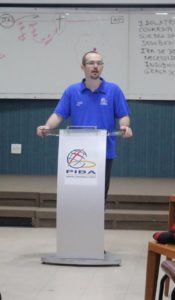 In 2006, we started training a group of twelve Brazilian pastors at the First Baptist Church of Atibaia (PIBA). WordPartners' Bible-immersion approach transformed these pastors and encouraged them to multiply. Very quickly they realized that WordPartners Training was, in the words of our partner David Merkh (pictured), "key for the transformation of pastors and their churches." Over the next four years, a vision developed among these pastors to reach their entire country with WordPartners Training. 
By 2014, PIBA had started their own non-profit organization (named Pregue a Palavra, or "Preach the Word" in English) to replicate training in Brazil; training an estimated 1,300 pastors and designating Regional Directors for their country. By 2016, an estimated 2,000 pastors had been trained.
"One of our heartbeats is to take this training to where there is nothing available." David Merkh, Director of Pregue a Palavra told WordPartners staff in a recent interview. "[In] the past four years, a group started in an Amazon river community…[Additionally,] God is using this so much that it's overflowing our borders." This ripple effect of WordPartners training is reaching into countries like Venezuela, Cuba, and across the Atlantic to Angola, Africa.
Our relationship with this passionate group of trainers has transitioned from a teaching role into a coaching one. By God's grace, a movement has taken root in Brazil, and we hope to continue to help our Brazilian brothers reach every Portuguese-speaking pastor and church in the world.