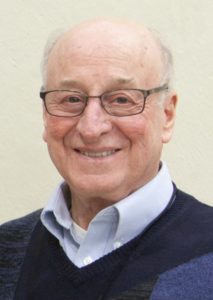 On Friday, May 8, 2020, we learned that Bill Mills had passed away into glory. Bill's heavenly homegoing came about relatively suddenly after Bill was hospitalized two weeks prior due to severe abdominal pain, where it was discovered that his cancer had returned.
Bill was a dear friend, a brother in Christ, an ardent lover of the gospel, a spiritual mentor to many of us, and the founder of this ministry. He will be greatly missed!
How It All Began
In May of 1970, Bill and Karen Mills started Personal Ministries as a one-to-one ministry to disciple young Christians. They focused their efforts on Bible studies that grounded new believers in the fundamentals of the faith and equipped them for ministry (a 2 Timothy 2:2 model from the start!). In the coming years, Bible study curriculum and workshops were developed and new staff members were added as God blessed the ministry. The laundry room of Bill and Karen's Palos Heights, Illinois, home served as the office for Personal Ministries until it moved to the basement of Bill and Karen's new house in New Lenox in 1978.
In 1977 a major shift took place in Bill's ministry when he realized that taking believers out of their local churches wasn't the biblical way to disciple. Personal Ministries then began to focus on building up churches and pastors by teaching Bible conferences focused on the heart of God as revealed in the Word of God. This transition – along with the several to come in the future – came about because of Bill's conscious desire to follow God where He was leading and not trying to force his own agenda.
God blessed Bill's Bible conferences and soon opened a door for one in Ecuador. When Bill returned home after the conference in Ecuador, he was asked how it went. "It was beautiful," Bill replied, "but I don't think I'll ever go overseas again. God has called me to minister to the church in America." Little did Bill know that God had other plans in store for him and Personal Ministries.
Going International
The next stage in the life of Personal Ministries focused on international church conferences, bringing the encouragement of God's Word to missionaries and churches in Latin America. Several years into the work, the focus narrowed to train pastors.
In 1990, Personal Ministries became Leadership Resources International (LRI) to better reflect the new focus of encouraging and equipping pastors in places where rapid church growth outpaced the development of leaders. The year 1997 saw the move of LRI's office from the Mills' basement to our current headquarters on Ridgeland Avenue in Palos Heights, Illinois.
The experience gained in international ministry over the next decade revealed to Bill and the LRI team the great need for deep and transformational biblical training. After much prayer, they decided to go smaller and deeper.
Expanding the Ministry by Training Trainers
This "smaller and deeper" strategy started in 2001 and had a name: "Training National Trainers" (TNT). Taking their cue from 2 Timothy 2:2's command to train up faithful men as teachers of the Word, TNT started by training ten men from a closed communist country in Asia. Bill called this transition a "turning point of ministry." Rather than having the ministry dependent on him and the LRI team, the TNT strategy multiplied the number of trainers available to train pastors "to preach God's Word with God's heart." Instead of their previous approach of asking pastors their needs and working to meet them, TNT relied on the truth that God's Word brings life and is sufficient to do God's work. TNT confronted the tendency of many pastors to use the Bible to preach their own message instead of submitting themselves and their teaching to God's message in the Scriptures.
As the TNT ministry expanded and matured over the next fifteen years, so did the ministry model. God had already used TNT to encourage and equip many pastor-trainers in dozens of countries; why not go deeper in equipping a few of the godly and gifted trainers to lead movements of training in their countries and beyond? The Mentor Trainer model was born. And by the year 2019, 224 Mentor Trainers were helping lead 629 training groups in 60 countries.
Bill's Last Trip
In March 2020, 130 LRI staff and key partners gathered from thirty-five countries in Brazil for a Global Summit. The summit was a week of vision casting, partnership, and specialized training. Bill took part and had a significant impact on a number of partners. One presentation highlighted God's work over the past fifty years through the ministry while also casting a compelling vision for the future. One forty-year-old Kenyan partner, so moved by what he heard, stood up and began singing the hymn "To God Be the Glory." The whole gathering burst into praise, singing the words:
To God be the glory! Great things He has done!
So loved He the world that He gave us His Son;
Who yielded His life an atonement for sin,
And opened the life-gate that all may go in.
Praise the Lord! Praise the Lord! Let the earth hear His voice!
Praise the Lord! Praise the Lord! Let the people rejoice!
Come to the Father, through Jesus the Son:
Give Him the glory! Great things He has done!
Bill was asked a couple of years ago, "If God had fulfilled your dreams when you began this ministry back in 1970, what would it look like today?" He responded quickly, "It would have been much smaller – and more about me." Bill constantly reminded us through his life and ministry that it's God's glory we pursue, and that God's vision for ministry is far better than our own. One of Bill's favorite verses became his heart's cry:
For the earth will be filled with the knowledge of the glory of the LORD as the waters cover the sea. (Habakkuk 2:14)
While this verse has not yet been consummated for those of us who remain here on earth, Bill has now seen the full glory of God and His Son, Jesus Christ. And so we rejoice! Thanks be to God!
---
Note: Leadership Resources International officially became WordPartners in March 2021, ten months after Bill's heavenly homegoing. Although Bill didn't live to see the launch of the name "WordPartners," he embraced the change with open arms. "It's a welcoming name that captures what we do on the field. . . . We have to do this!"
---
Teaching Multimedia
---
"God desires to reveal His heart to us and to build His heart into us as we seek His face. Insight alone does not transform us; only the things that flow from the heart of God transform the lives of people. As God opens His heart to be known by us and as He builds His heart into us, His love will flow through us to those who are in desperate need of His forgiveness, His compassion, His healing, and His life."
― Bill Mills in Adequate: How God Empowers Ordinary People to Serve
---
Audio
Video
Interviews