Since our founding in 1970, two ministry presidents – Bill Mills and Craig Parro — faithfully led this organization for a combined 52 years. But now, God has a new man to lead WordPartners into the future.
What does the next season of mission hold for WordPartners? How will this ministry remain the same? How will we change and be changed? What good works has God ordained in eternity past for us to do in the coming days and decades (Eph. 2)? 
We do not have the answers to such questions, but we do know one key part of the answer.  
On Monday, January 3, 2022 the board of directors announced David Sunday as the third president of WordPartners. (If you missed the announcement, you can see it here.)
To help you get to know David, we've asked him a few questions about ministry, life and personal experience. Here are some of his answers:
How did you become a Christian?
By God's grace, I was raised in a believing family, and I have known from my childhood the Holy Scriptures that are able to make us wise for salvation through faith in Jesus Christ. I cannot remember a time in which I actively rejected the gospel from my earliest days. I remember being thankful for the good news of what God has done to save sinners through the life, death, and resurrection of Jesus. I remember praying with my mom when I was young to receive Jesus as my Savior. I was baptized as a believer at the age of twelve.
Throughout my junior and senior high years, I earnestly wanted to follow Jesus and point others to him. But when I was eighteen, I went through a crisis of faith when I became alarmed by the depth of my sinfulness, and I realized that my comprehension of the gospel did not run very deep. I was unsettled by doubts about the objectivity of the Christian faith and my own assurance of salvation was shaken. During that time, the Spirit of God led me deeper into the Word of God, especially the book of Romans. I was arrested in Romans 9 by Paul's unapologetic exultation in the sovereignty of God's grace.
Through the help of a pastor, I was led to see that salvation is wholly of the Lord from Genesis through Revelation, and seeing the sovereignty and majesty of God in His grace toward sinners became a source of sweet and solid assurance to me. I realized that the God who had begun a good work of grace in me would be faithful to carry it on to completion and that I could trust Him to keep me in His grace and love.
How would you describe yourself theologically?
Warmly Reformed, with a passion for the centrality of the gospel of Jesus Christ in all the Scriptures and a reverence for the infallible authority of the Bible.
Deeply committed to the local church as the theater of God's glory in the world, with the primacy of the Word and sacraments at the heart of the church's worship and discipleship.
Pastoral, in that theology is meant to shepherd God's people.
Missional, in that theology is intended to propel the church into the world as witnesses to the light and life of Jesus Christ.
What are five books (other than the Bible) that have influenced you greatly?
Iain Murray's two-volume biography of D. Martyn Lloyd-Jones
The Heart of a Servant Leader by C. John Miller
The Wonderful Works of God by Herman Bavinck
Dominion and Dynasty by Stephen Dempster
Wisdom in Leadership by Craig Hamilton
What excites you the most about WordPartners' ministry?
I resonate with WordPartners' longing to see God's Word flowing powerfully through every church to every nation. I felt that strongly every time I traveled with WordPartners (then LRI) to Ukraine. I love how the ministry is reproducible and is multiplying through global partners who equip pastors in their regions to teach God's Word with God's heart. I think that last phrase is important. God is seeking shepherds after His own heart (Jer. 3:15) who not only can convey the doctrinal truth of God's Word but can also demonstrate the mercy and compassion of God's heart toward those who take refuge in Him.
I think WordPartners' "secret sauce" is the way they develop lasting relationships through four years and eight training workshops. Knowing those pastors are going to take what they've discovered from God's Word and share it with their congregations in their own language and culture is thrilling to me. I continue to be in touch with pastors I met in Ukraine – people who are now dear to me. I love that relational focus.
What is your experience working cross-culturally and internationally?
I have traveled internationally on various mission trips to the Philippines, Morocco, Spain, Switzerland, France, Belgium, the Czech Republic, England, Uganda, Turkey, Jordan, Indonesia, Mexico, and Honduras. Plus, I've been on three training trips with WordPartners to Poltava and Kyiv, Ukraine. We have maintained close, long-lasting relationships with global partners around the world.
Even though New Covenant Bible Church (St. Charles, Illinois) is in an area that is not very diverse, we have been intentional about trying to create a culture that is ready and eager to embrace ethnic diversity as the demographics in Saint Charles and Geneva change. An Argentinian couple who attend our church recently told me that they have appreciated my cultural sensitivity, and I was grateful to hear that.
Describe your experience as a public speaker, preacher, or communicator.
Preaching has been the most important priority of my pastoral ministry from the beginning. I started preaching in youth ministry, leading Bible studies, and teaching classes; and that has continued in my role as a senior/lead pastor since 1998. I've been committed to expositional preaching, making sure the main point of the text is the main point of the sermon.
I believe that preaching needs to not only convey the message of the text of Scripture but also the burden of the text: why did the Holy Spirit inspire this word for God's people? What does He want us to hear from it today? I love preaching the Word, and I relish the opportunity to lead an organization that is passionately invested in equipping preachers around the world.
What interested you in becoming the president of WordPartners?
It combines two of my chief loves – training pastors and missions. I desire to take what God has poured into me through thirty years of pastoring and invest it in the lives of people who will be multiplying gospel-centered pastoral leaders around the world. Further, I love leading teams who are uniting around a grand vision, and I see this role as an opportunity for an expansion of my leadership gifts.
How would you define a healthy ministry?
When it's pulsating with passion to see Jesus Christ exalted and his gospel advance. When it's bathed in prayerful dependence on the Holy Spirit. When those who serve and are being served do so out of a profound awareness that we are loved by the Father, so we aren't trying to prove our worth by what we do, but we're doing it out of a desire to see more and more people enter into His love. I heard Ray Ortlund say it compellingly: "We get healthy again when we stop miniaturizing Christ and rediscover his actual grandeur and we allow him, in our churches, to be all that in fact he is."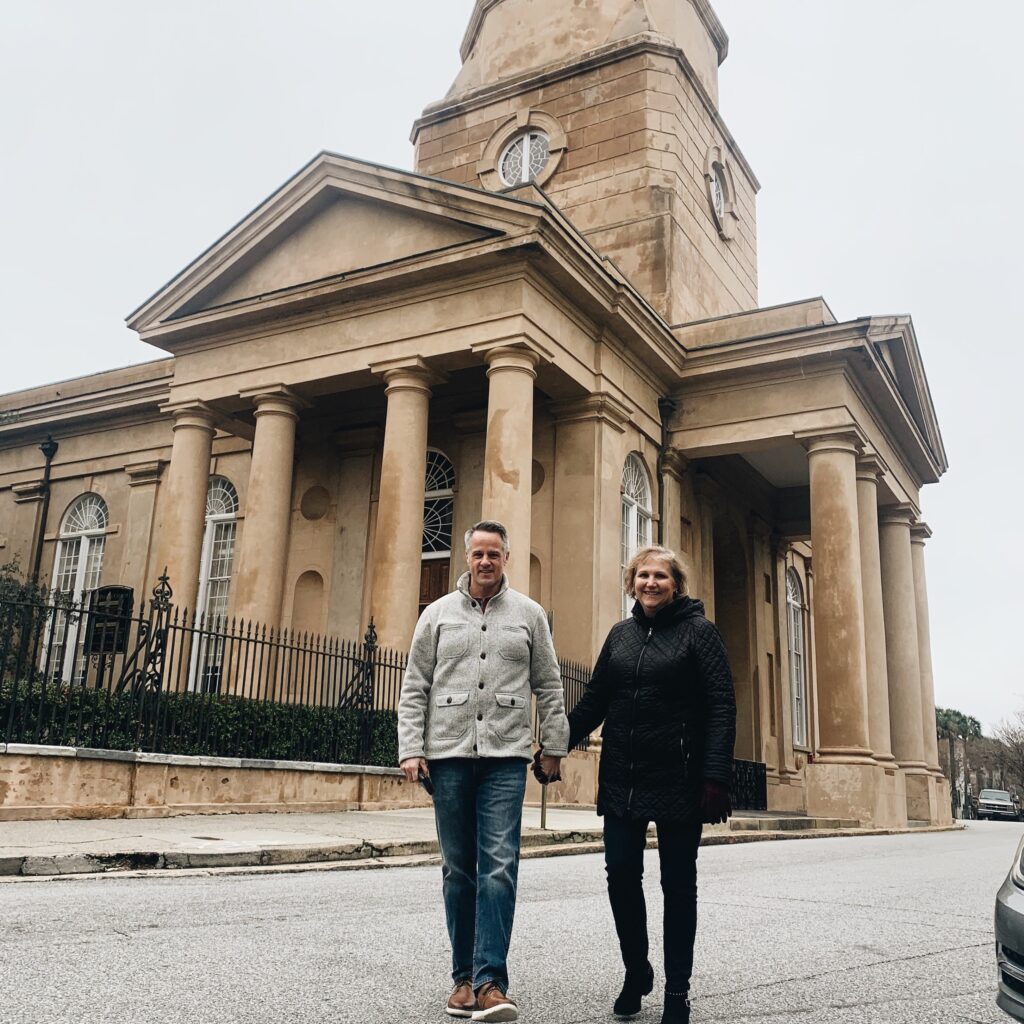 David and his wife, Kate, have three adult children, a daughter-in-law, and one grandchild. He has traveled numerous times with WordPartners and joins the team with thirty years of pastoral ministry experience.