When Alexander first started WordPartners training, he thought it would be just another course to take. Instead, his four-year training experience challenged his framework, exposed gaps in his biblical understanding, and gave him a tool to expand his ministry.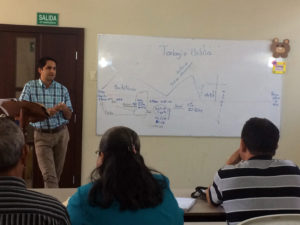 "Studying Ruth and Jonah opened up the Old Testament up for us and helped us understand the person of Christ. God has used WordPartners training to teach us His Word, develop close relationships with other leaders, and to transform our hearts." 
As the secretary of Portoviejo's pastoral network, Alexander has started two training groups of community pastors. "Some pastors have asked God for forgiveness," he reported. "Some have said 'I have preached things this book doesn't say.' Others have cried." These powerful times in God's Word have unified pastors from various denominations and encouraged them to work together to reach their city of 250,000 with the gospel.
"Our pulpits are lacking solid, biblical preaching that is profound and relevant." Alexander commented. "The pulpits in Latin America need to be redeemed."