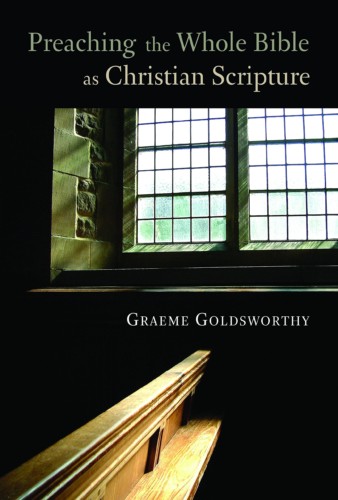 I love the story of Jesus on the road to Emmaus teaching two disciples how the whole Old Testament testifies of Him in Luke 24. It mesmerized (and still mesmerizes) me thinking of Christ as the culmination of the entire Old Testament. For a while though, I was disappointed that Luke didn't include a transcript of their conversation for us!
I wanted to understand more how the Old Testament pointed to Christ but didn't know what to do. I didn't realize it at the time that I lacked an understanding of biblical theology, something that is vital for every Christian and especially preachers. Yet, while there is a great need for preachers to understand biblical theology, most preaching books barely touch on biblical theology.
Thankfully Graeme Goldsworthy, the Aussie theologian, wrote Preaching the Whole Bible as Christian Scripture (read 30 quotes). He defines biblical theology as "nothing more nor less than allowing the Bible to speak as a whole: as the one word of the one God about the one way of salvation" (7).
Preaching the Whole Bible as Christian Scripture lays out his methodology of biblical theology as it relates to expository preaching (Part One) before applying his methods to eight distinct biblical genres (Part Two). Goldsworthy's stated purpose is to "provide a handbook for preachers that will help them apply a consistently Christ-centered approach to their sermons" (ix).
Not Easy, but Vitally Important
Goldsworthy grieves how much evangelical preaching misses the unity of the Bible story:
Texts are taken out of context; and applications are made without due concern for what the biblical author, which is ultimately the Holy Spirit, is seeking to convey by the text. Problem-centered and topical preaching became the norm and character studies treat the heroes and heroines of the Bible as isolated examples of how to live. The old adage about a text without its context being a pretext needs re-examination. (15-16)
Biblical theology is not easy, Goldsworthy concedes, but is essential to truly understanding the Bible's message and what it means for us today. Goldsworthy shows the Christological focus of the Scriptures by unpacking the sometimes-tricky dynamics of Old Testament typology, law versus gospel, promise and fulfillment, along with the telos of the Bible. In doing so, we are reminded time and again just how badly sinful humanity needs to hear the message of Christ:
Why would you even want to try to preacher Christian sermon without mentioning Jesus? Is there anywhere else we can look in order to seek God? To see true humanity? To see the meaning of anything in creation? … If we would seek God, he is most clearly revealed in Jesus Christ. If we would see what God intends for our humanity, it is most clearly revealed in Jesus Christ. If we would see what God intends for the created order, we discover that it is bound up with our humanity and, therefore, revealed in Christ. (115-116)
The book's second half provides framework, examples, and practical tips necessary to preach Christ from all literary genres of Scripture. This section (for which 'handbook' is a great label) is helpful, but not comprehensive (which would be near impossible). You may choose to skip around in this section to the genre of a book you are currently studying or one that you have difficulties with.
Recommendation
As the title of this book suggests, Preaching the Whole Bible as Christian Scripture is most valuable to preachers and other communicators of the word. It compellingly shows that failing to preach Christ from all of the Scriptures comes with great danger:
Any sermon, then, that aims to apply the biblical texts to the congregation and does so without making it crystal clear that it is in Christ alone and through Christ alone that the application is realized, is not a Christian sermon. It is at best an exercise in wishful and pietistic thinking. It is at worst demonic and its Christ-denying legalism. (124)
This book's unique contribution is combining biblical theological methods with practice. Most other books won't provide a theological feast as rich (and important) of the first half, nor the practical guidance of the second—let alone the combination. Many preachers will find themselves consulting this book after they read it, even if it is a little erudite and lengthy. (Handbooks aren't always meant to be read straight through.)
Overall, Preaching the Whole Bible as Christian Scripture is a very important book. It will challenge the preacher's assumptions and encourage him to dig into the Scripture text for himself, which is the only way to grow as a preacher of Christ. I think that it will encourage many to preach Christ and the gospel in diverse ways as it imparts insights on the unsearchable riches of Christ from various parts of the Bible. This won't be the only book of preacher needs on biblical theology and preaching Christ, but it would be hard to find one more helpful to someone with an intermediate grasp of biblical theology. For those wanting a more introduction-level book, we recommend God's Big Picture by Vaughan Roberts (free video course), which is an accessible introduction.
Today, I'm content we don't have Jesus's sermon from Luke 24. (Although I'd still like to read it!) Christ wants us to discover His glorious riches for ourselves in all 66 books of the Bible.
Our task of preaching Christ from all the Scripture will never be easy. But as we faithfully labor and grow in understanding, our joy will grow as we see the One to whom the law, the prophets, and the Psalms testify and preach Him to our people.