This article first appeared online for The Gospel Coalition.
---
The son and grandson of Christian workers in Nepal had no desire to follow them into ministry. Besides seeing his father endure persecution and rejection, Lazarus Thulung experienced a great loss on the very day he was born. His mother died in childbirth.
The father, N.D. Thulung, with Hindu ancestry, became the first person to offer the gospel to his village in Nepal. But as N.D.'s wife lay dying, the pagan villagers offered no help, concluding the gods were judging him. They refused to even assist with her burial.
In his bitterness, N.D. questioned God for allowing his suffering. Yet he gave his son a hopeful name and persevered in ministry. Driven from his village, he moved to another region and successfully planted several churches. Over the years, N.D. witnessed God's faithfulness to both change his son's heart and draw the young man into ministry. And he has now seen the Lord raise up Lazarus to become a recognized leader in Nepal's church-planting movement.
Training Indigenous Pastors
WordPartners exists "to equip and encourage pastors around the world to teach God's word with God's heart." WordPartners' Director of Asia oversees our efforts in five countries of the Himalayas, including Nepal, which he visits every six months to instruct national pastors in biblical exposition as part of the WordPartners training program.
In the fall of 2008—the same year Nepal's Hindu monarchy yielded to demands that included more religious freedom—both Lazarus and his father began WordPartners' training in their country. By this time, Lazarus had completed college and grown in his faith through the ministry of Cru (Campus Crusade for Christ). He had also attended a Filipino seminary and returned to Nepal with a big goal.
"I had [a] vision to plant churches in every village [sic] of Nepal by 2020," Lazarus said.
To advance that goal, the younger Thulung partnered in 2006 with a church planting organization, ServLife International. In his 10 years as Director of Himalayan Development, Lazarus oversaw the planting of approximately 117 churches in 34 of Nepal's 75 districts. He reported that more than 4,200 new believers were baptized through 2016.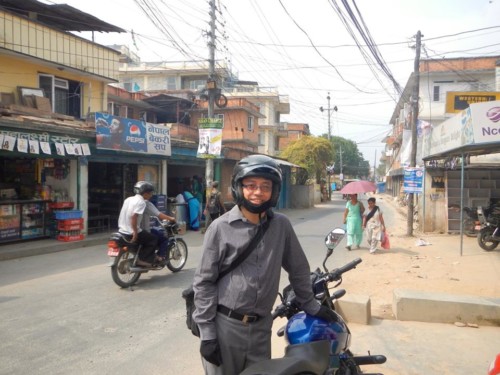 Despite Difficulties
Nepal is a small country about the size of the state of Arkansas but with ten times the population—nearly thirty million people. And most Nepalis live in valleys along mountainous terrain or in other rural areas difficult to access. This country's challenges include issues of illiteracy, health, and dire poverty that breeds child labor and human trafficking. It also struggles to recover from widespread devastation after a 2015 earthquake.
Besides the physical obstacles in reaching Nepal with the Gospel, a great religious and cultural divide separates East and West. In a 2014 article for The Gospel Coalition (TGC), Michael Heitland, president of ES4M (Equipping Saints for Ministry), stated that Westerners will fall short in reaching Nepalis, who "suffer from the spiritual darkness of either Hinduism, with millions of deities, or the self-deifying religion of Buddhism."
ES4M works predominantly in Nepal and shares WordPartners' focus of equipping leaders to handle God's Word properly. The church in Nepal is "on the move… Christianity is exploding," Heitland said.
According to current statistics by Operation World, a church has been planted in every district of Nepal. And at least some believers can be found in nearly all of this country's 380 people groups and castes.
Working Together to Exalt God
The efforts of both WordPartners and ES4M are bearing fruit in Nepal by investing in indigenous pastors according to 2 Timothy 2:2, "entrust to faithful men who will be able to teach others also" (ESV). Both WordPartners' Director of Asia and Heitland have also supplied church leaders with needed biblical support materials—Bibles and books provided without cost by TGC International Outreach (IO). Though mostly in English, the resources are useful to many Nepalese pastors who read and speak the language.
WordPartners' Director of Asia views IO's Packing Hope materials as supplemental to the WordPartners training. "They are God-exalting, Christ-honoring, and Scripturally centered," he said.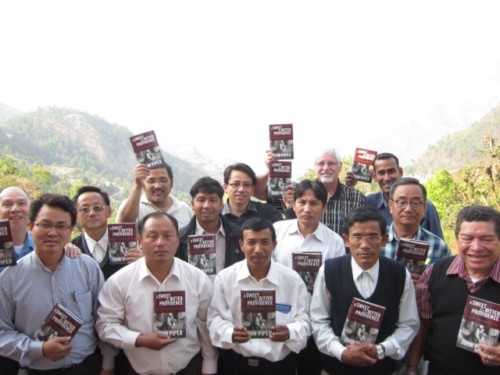 Those resources for Nepal have included several books by John Piper, such as, A Sweet and Bitter Providence. Based on the story of Ruth, the book helped N.D. Thulung to see God's hand in working all things for His glory and for the good of His people.
Another book by Piper, Life as a Vapor, encouraged Lazarus and his wife to live in light of eternity as they grieved the death of their adolescent son—born with cerebral palsy. This book helped Lazarus to better understand the trauma in his life and to help others who face sorrow and loss.
Beyond Nepal's Borders
N.D. and Lazarus Thulung both graduated from WordPartners' four-year training program, which qualifies them as "mentor trainers." They have since passed on their training to more than two hundred other Nepalese church planters, according to WordPartners' Director of Asia.
The father and son now serve as strategic partners in WordPartners' work in expositional training in Nepal and neighboring countries. Their separate churches are under the umbrella of Jyoti Great Commission Church, a fellowship of churches in Nepal.
Since passing his leadership role with ServLife to another man in late 2016, Lazarus further helps with the training of Nepalese and other Asian pastors in the U.S. These pastors have established churches among the diaspora population in several large cities—Atlanta, Houston, and Columbus (Ohio).
Including N.D. and Lazarus, WordPartners currently has fourteen trainer-led groups in Nepal. Their efforts, along with the work of other faithful and courageous pastors and ministry partners in this country, are multiplying leaders and healthy churches well beyond this country's border.